"The most successful home renovations are the ones that stay within budget and on schedule." - Joanna Gaines
Introduction to staying within budget on your kitchen remodeling project:
When it comes to remodeling a kitchen, one of the biggest concerns for homeowners is the cost. The last thing you want is to be hit with unexpected expenses or find that your project has gone over budget.
Top contractors will be transparent about costs and will work with you to make sure that your project stays on track and within budget.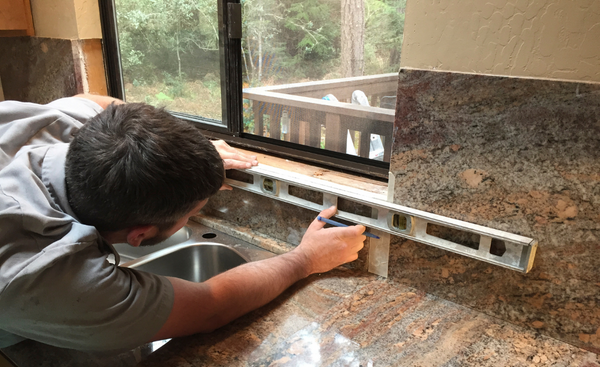 Here are 5 steps to make sure your project is both beautiful and meets your budget expectations. 👊
1. Start with the big picture
Use a budget estimating tool to identify the kind of budget that is appropriate for your job. Click here to use our tool to get an initial kitchen remodeling budget estimate.
By answering a few questions about your project like kitchen size, the quality of appliances, fixtures, lighting, styles, and other major construction details will give you a starting point budget estimate.
2. Meet with an expert to narrow project details and get a detailed price quote
Bring at least one top contractor into the house to do a detailed project assessment. Obviously two or three is better than one. Then go through your initial project estimate and discuss details. Take measurements and get detailed pricing on specific design alternatives.
This estimate should include a breakdown of all the costs associated with your project, including materials, labor, and any permit fees.
3. Discuss alternatives
When the price gets too high, understand that there are always alternatives to cut costs without sacrificing quality. For example, a good contractor will suggest using less expensive materials or finding ways to reduce labor costs. By working together, you and your contractor can find ways to stay within your budget without compromising on the final look, feel and functionality of your kitchen remodeling project.
4. It's all about project management
A good plan will go off the rails fast without good project management. Remodeling a kitchen is a complex job that often involves moving electrical lines, water lines and sewer lines. A good contractor will have a plan in place for managing the project and keeping you appraised of what is going well and where there are issues. This will help to keep the project on track and avoid delays that can add total cost of the project.
5. Communication is key
A good contractor will keep you informed throughout the process. Giving regular updates on the progress of the project and budget.
6. Ask for references
The most important factor when it comes to staying within budget is hiring a reputable and experienced contractor. Do your research, read reviews, look at before and after pictures from other jobs, and make sure you are personally comfortable speaking with the contractor.
Conclusion
A good contractor will be transparent about costs and willing to work with you to stay within budget. They will work with you to find cost-saving solutions and keep you informed.
A newly remodeled kitchen is a big project, but it will dramatically improve the overall quality of your home and lead to years of enjoyment for all who enter.
Other resources to help you get started
---
Ready For A Beautiful New Kitchen?
Select One To Get Started
Custom HTML/CSS/JAVASCRIPT
---